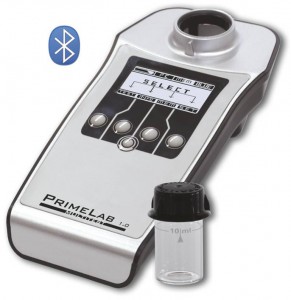 With technology getting smaller, lighter and faster, it can often appear that some industries get left behind or overlooked.
Take the Photometer for example. Does yours still transmit data via a serial port or an IR interface, if at all? Is your data analysis restricted to predefined parameters? Do you have a choice over which parameters you want to measure? Is the performance of your Photometer limited to a few or only one wavelength?
These issues have been challenged and overcome by the PrimeLab 1.00 Photometer, recently introduced to the market by DTK Water.
The PrimeLab contains a sensor by JENCOLOR that has unprecedented accuracy, able to measure all parameters where colour development is visible to the human eye after adding a reagent (visible wavelength).
PrimeLab's software offers you not only user-based management of your measurements sources (e.g. pools) and related measurements data but also offers advice on adjusting the water values back to ranges defined by you.
You can also easily upload additional parameters into your Photometer. Once these are uploaded, the device auto-calibrates itself within milliseconds at the push of a button without having to return it to the manufacturer.
The PrimeLab is not only a leap forward in technology, it's also got a great financial story too. It is comparable in upfront hardware investment but the total cost of ownership is where it makes perfect sense. Its upgradable nature means you can add parameters as and when you need them by a simple activation. Subsequently developed measurements methods can also be installed, meaning the PrimeLab will never become obsolete.
Contact us today for more information or a demonstration:- http://www.droptestkits.com/contact-us